We think of office lighting as boring and old-fashioned fluorescent or recessed fixtures. It's as if professional settings have no room for creativity. But now, to every employee's relief, business owners are starting to recognize the impact of lighting in a space. They've realized that boring fixtures do little in boosting productivity and happiness.
Lighting, in fact, is the most important design feature in a space. It's responsible for setting moods and making tasks easier to perform. A 2014 research found that lighting can also affect people's emotions. Feelings of warmth increase during exposure to bright, warm-toned lights, while angst arise during exposure to cool-toned lights.
The brighter the light, the more intense emotions can become. Sure enough, when you walk into an office with harsh fluorescent lights, you tend to feel on edge. On the contrary, when you enter a spa with dim but warm lights, you instantly feel relaxed and welcome.
Therefore, offices should also invest in their lighting systems to create an inviting and inspiring space. Employees aren't robots; they are human beings who need to care for their well-being to stay productive.
That said, here are some office lighting tricks worth giving a shot:
Know Your Types of Light Fixtures
Before changing your entire lighting system, brief yourself on the different types of light fixtures first, as well as the different types of installing them.
Chandeliers may be more of an aesthetic feature, but they actually provide ambient lighting, which is a space's main lighting. In a home, chandeliers are usually installed above a table to create a focal point. In commercial spaces, on the other hand, you may see them in a hotel or any high-rise building's lobby.
Ceiling lights are the fixtures mounted directly to the ceiling, with glass or plastic shades concealing the bulb. Energy-efficient flat panel LED lights are the best ceiling light. Compared to fluorescent or recessed lights, LED lights are brighter and more modern in appearance.
Pendants are the light fixtures you'd normally see above kitchen islands. But many offices are using them now, too. Studio Mcgee is one of those, wherein you'd see gorgeous metallic pendants hanging above their conference table. Pendants also work perfectly as bedroom task lighting.
Wall sconces are affixed to a wall, directing light upwards or downwards, or both. They're more of a style feature, with their shades diffusing the brightness and creating a more moody glow.
Desk, Floor, and Table Lamps
Lamps mainly serve as task lighting, but they can function as ambient lighting too. In offices, desk lamps are often used as they're brighter than table lamp shades, and more space-saving than floor lamps.
Accent lighting can be installed under cabinets, or come in the form of track lights. Track lights are either mounted to or suspended from the ceiling, with a linear housing and several heads that you can point to in different directions. You can use them to illuminate wall decor, or as task lighting in certain areas.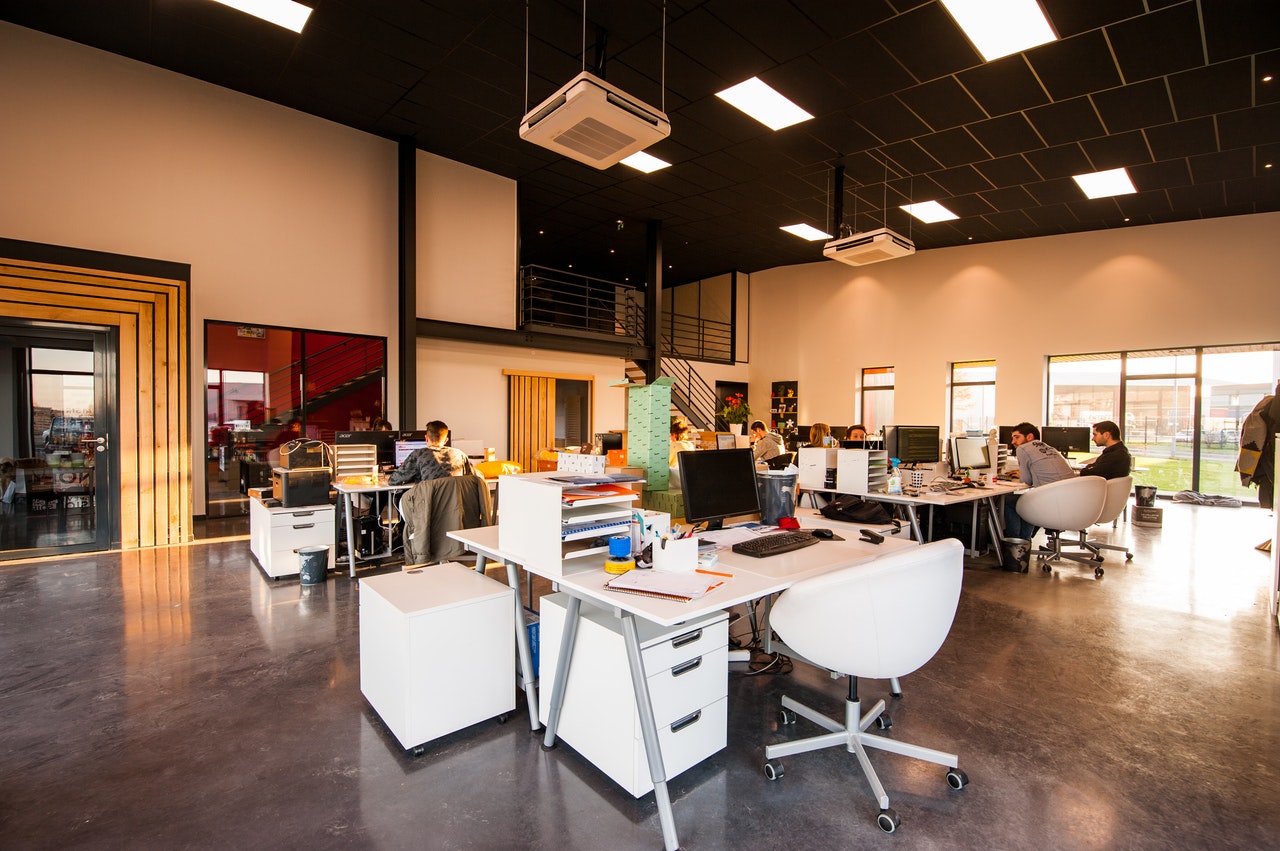 Office Lighting Design Ideas
Now that you're enlightened about the different types of lighting fixtures, grab ideas from these incredible office lighting designs:
Illuminate the Space Indirectly
If you want to brighten a space without using harsh fixtures, consider installing the lights in coves, in niches in the baseboards, and along the coves of a hallway. This indirect lighting trick creates more drama in your office, but it'll look chic as opposed to gloomy.
Install Quirky Pendants or Chandeliers
Pendants and chandeliers look best in open-concept offices. They add visual interest in the midst of monotonous work desks and communal areas. To add more personality to your workspace, choose quirky pendants or chandeliers. They'll add a futuristic vibe to your office.
Use Floor Lamps in Executive Rooms
Reduce the intimidating feel of executive rooms by using floor lamps as task lighting. It can turn the desk into a focal point and break up the uninteresting details of the space.
We usually aim for symmetry when lighting up a space. But design pros proved that asymmetry can also be beautiful and functional. Consider different shapes of pendants for your reception area, communal area, or conference rooms. It'll express your company's flexible and adaptive culture.
No fancy light fixture can beat natural light. Use light-colored window shades, or draw your window treatments open if the heat won't be an issue. Natural light brightens your space more evenly and stimulates happiness and productivity among your employees best.
Don't wait for your employees to express their lack of inspiration before redesigning your dull lighting system. Consider the lighting makeover a little present for them because of their hard work (and putting up with your uninspiring lights).