Life Elevated takes on a literal meaning if you're moving to Utah. Living in a new state at over 4,000 feet can be challenging — but you'll fit in perfectly because Utah is one of the friendliest and most welcoming states in the nation.
The Highs
1. A Thriving Economy
Utah is one of the fastest-growing tech hubs in the US — attracting established brands like Adobe and Facebook, as well as a multitude of successful startups. The state's tech industry has grown by 70 percent — providing job opportunities within or near Salt Lake City. Utah's median household income stands at around $68,000 a year — well above the national median of $59,000. The figures are more impressive if you factor in the state's rate of stay-at-home moms (one of the highest in the nation at 40 percent).
2. Safety
Utah is considered one of the safest places to live in the US. The majority of crimes are non-violent property crimes. Compared to the rest of the nation, Utah's violent crime rate is 40 percent lower — 80 percent lower if you live in more rural areas.
3. Low Rental Costs
Renting a home in Utah cities costs around the same as the national average. A single bedroom apartment in Salt Lake City will cost you $1,000 a month, a 3-bedroom home goes for $1,500 a month, and you can get a 5-bedroom apartment for $2,500. However, if you choose to rent outside the metros — rent costs can go down by 50 percent or more. Traffic is virtually non-existent in Utah, which brings you to —
4. Excellent Transportation Networks
The only time traffic stops moving is during heavy snow. Utah's roads and highways are rarely congested. The state has a light rail system, a commuter rail, and an award-winning bus system that can take you anywhere you want to go.
5. The Great Outdoors
Utah is home to 5 national parks. The state's thriving outdoor culture has made its residents some of the fittest in the nation. Whether you're into hiking, running, cycling, whitewater rafting, climbing, skiing, or even horseback riding — you'll never run out of things to do.
The Lows
1. Taxes, Taxes, Taxes
Utah stands at the median range when it comes to taxation (ranking 25th highest in the country on taxation). The state imposes a 5 percent income tax and a 7-9 percent sales tax. If you're buying alcohol, cigarettes, or gasoline — prepare for another round of taxes.
2. Inversion
Winter months unavoidably lead to inversion. Smog stays trapped in the air — and the high number of particulates can sometimes make it unsafe to go outdoors. Inversions typically last for 3-4 days — with the longest inversion on record lasting for three weeks.
3. Too Much Sun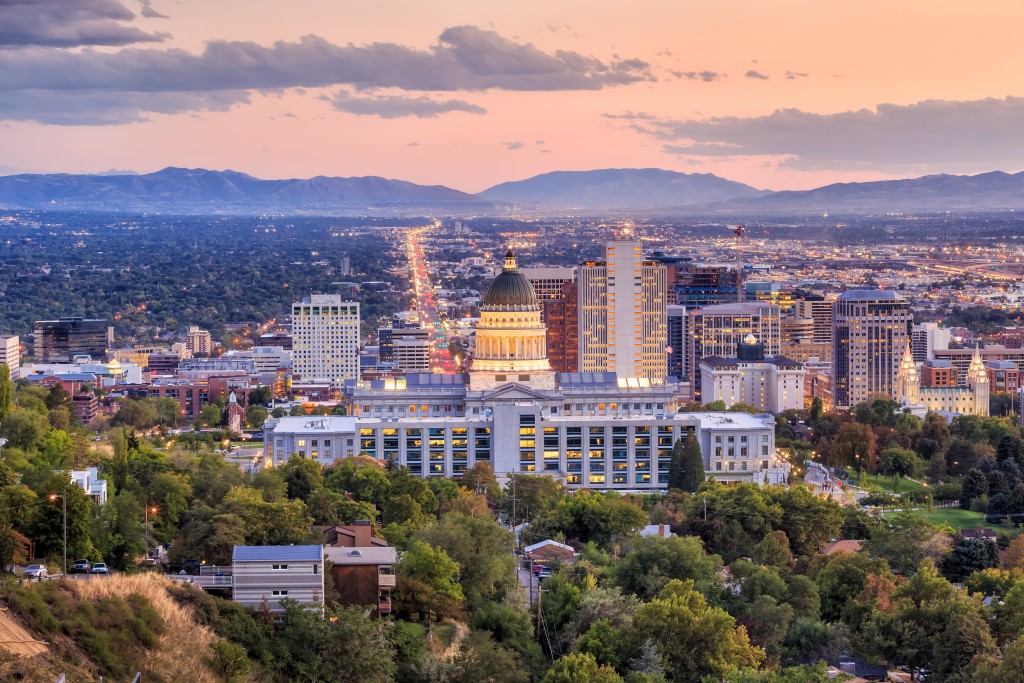 Before buying those beautiful quartz countertops for your kitchen — make sure your house is protected from ultraviolet (UV) radiation. UV gets more concentrated with elevation (as much as 6-7 percent for every 1,000 feet. Higher UV concentration translates to a higher risk of skin cancer. Proper use of sunblock should mitigate or eliminate the risk, but you should take further measures to ensure your safety. Use a UV-filtering film in your house's doors and windows. They'll protect your countertops from discoloration and keep you safe from UV — because nobody puts on sunblock when staying inside the house.
Utah's highs outweigh its lows. Living elevated comes with a host of advantages, and you can easily work around the few disadvantages.