Accommodations can make or break a trip. After a whirlwind day spent sightseeing and taking in all there is to experience in a different country, you'll definitely want to kick back and relax in the most comfortable lodging available. If you're on a budget and you can't afford to stay in a swanky hotel, you might want to consider a hostel. Hostels are an affordable and practical type of lodging that features an assortment of rooms that can accommodate various needs. Here are a few of the most common types of rooms you can find in a hostel:
Private Rooms
If you're visiting a big, expensive city like New York or London, you'll want to stay at hostels with private rooms. You'll get the same peace and security of a hotel room without the expensive cost. Private rooms usually have an en-suite shower and toilet, as well as a common area for you to meet other travelers. This is ideal if you're an older traveller or a couple who needs a bit more privacy. Although they're a little more expensive than most hostel rooms, they're still a lot cheaper than other types of accommodation. There are also different types of private rooms to choose from:
Single Private: A room with one single bed
Twin Room: A room that comes with two separated single beds
Twin Room with Bunk Bed: A twin room but with either one bunk bed or one bunk bed and two single beds.
Double Room: A room with a double bed or king-sized bed fit for two people.
Family Room: A room with more than two beds that fit a family of four or more. Includes a double bed and one bunk bed.

Apartment:

A room with more en-suite facilities such as a kitchen.
Dorm Rooms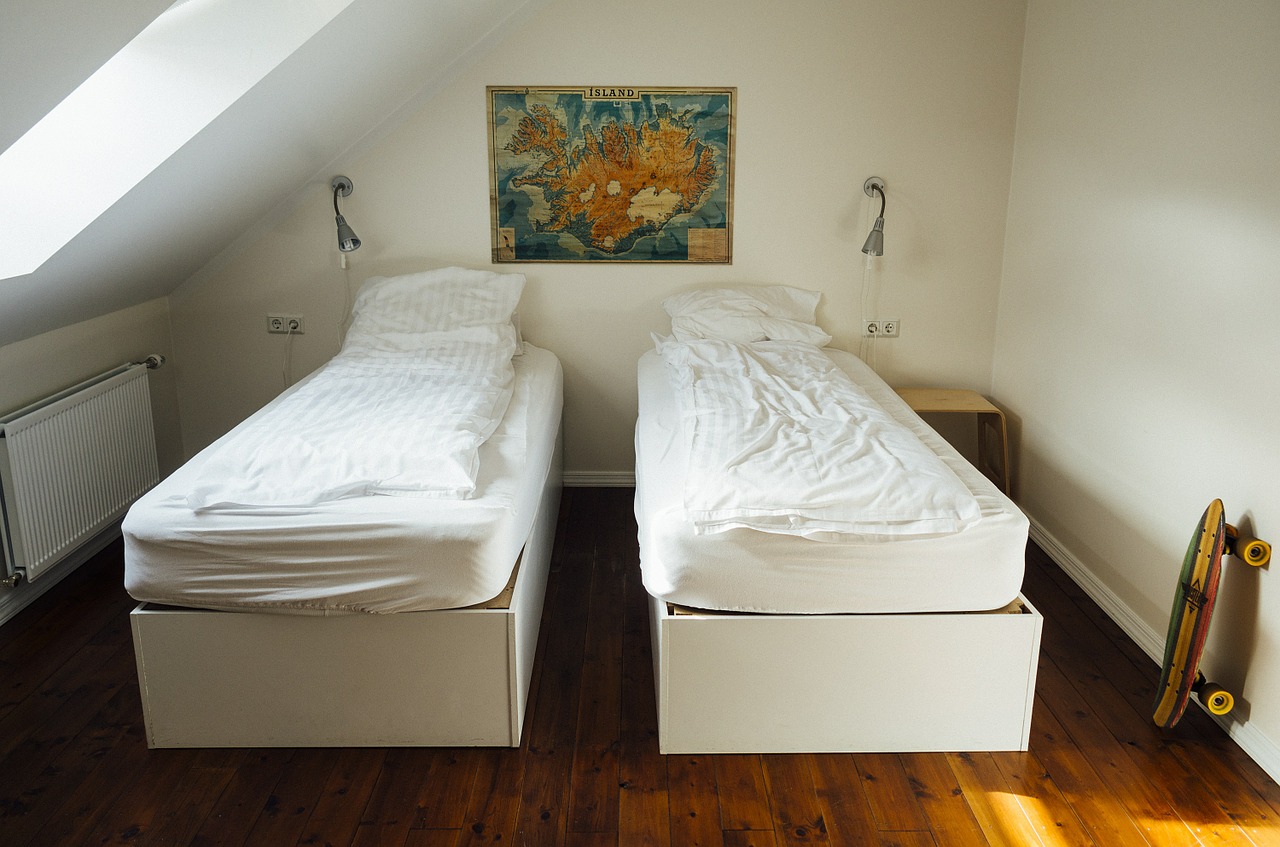 Dorm rooms are probably what you think of when you hear the word hostels. They're a cheaper alternative to private rooms and have multiple beds for a number of people, most of whom aren't even travelling together, to share. These types of rooms usually accommodate four to twelve people, but this depends on the hostel. As a general rule, the more people you share a room with, the cheaper it will be.
This set-up is ideal for people on a tight budget, younger travelers, and those looking to meet like-minded people. These spaces come equipped with a power socket to charge your gadgets, a curtain for privacy, and a reading light. You might have to use a communal bathroom, but some dorm rooms also offer en-suite bathrooms. Like private rooms, there are also different types of dorm rooms to choose from:
Mixed Dorm: Dorms that welcome all genders. You'll be sleeping in a dorm room with a mix of men and women.
Female-Only Dorm: Dorms that only allow female guests. Perfect for solo female travellers.
Double Rooms: These rooms offer a single or double bed for you to sleep on, rather than a bunk bed.
Capsule Pod-Style Dorms: Capsule dorms feature small bed-sized rooms called capsules. They come with a power socket and a curtain for privacy.
There's no need for you to sacrifice comfort for cheap accommodation. Hostels are a budget-friendly solution to your problems.